Welcome to Salt Yoga! 
Latest updates - 
Christmas/New Year closure - the studio will be closed from 24/12-1/1 (inclusive), classes return January 2nd. All classes running as scheduled until December 23rd.
** Please note that active class passes and memberships will automatically be extended to account for this closure **

Therapeutic Soundbath with Shanti Sound -  next date Sunday December 16th (1-3pm), tickets selling quickly
We have moved our Beginners Meditation class - it's now happening on Saturdays at 10:15am.
Descriptions of each class are available by clicking on the class name in the timetable below.
To save time at the studio please pay for your class pass or membership
online
prior to your class. We also take cash (preferred) or card (in a pinch) at the studio.
We've got some pretty comprehensive answers to
FAQ
s on our website but please
contact us
if you have any other questions.
See you at the studio soon!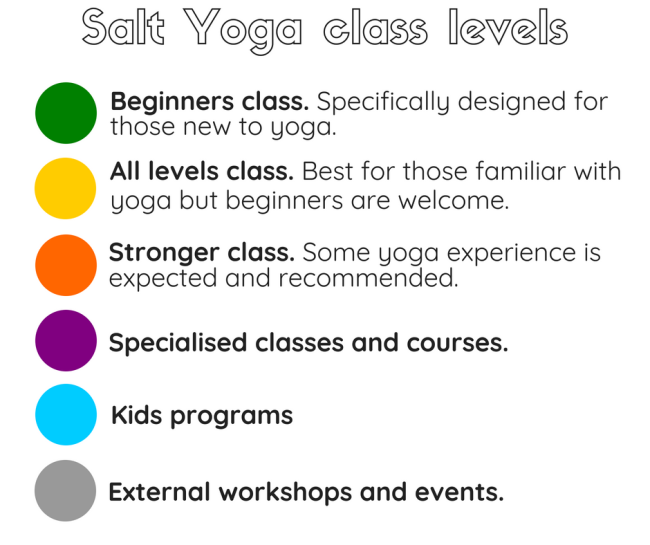 26

27

28

4:30 pm

Kids Yoga with Thrive Yoga for Kids

See description

29

30

1

3:00 pm

Beginners Meditation

Caetlyn

2

3

4

5

4:30 pm

Kids Yoga with Thrive Yoga for Kids

See description

6

7

8

3:00 pm

Beginners Meditation

Caetlyn

9

10

11

12

13

14

15

10:15 am

Beginners Meditation

Caetlyn

16

1:00 pm

Therapeutic Soundbath with Shanti Sound

See description

Show past weeks

17

Meditation Class time change

Our meditation class now runs at 10:15am on Saturdays, hope you can make it :)

Studio Closed

Classes return on January 2nd.

Studio Closed

Classes return on January 2nd.

Studio Closed

Classes return on January 2nd.

Studio Closed

Classes return on January 2nd.

Studio Closed

Classes return on January 2nd.

Studio Closed

Classes return on January 2nd.

Studio Closed

Classes return on January 2nd.

Studio Closed

Classes return on January 2nd.

Studio Closed

Classes return on January 2nd.

No 8:30am class today

Sorry, the 8:30am class isn't running today. Lauren will be back next week :)

8:30 am

Vinyasa Flow Yoga

Vinyasa Flow Yoga

Lauren

1 hour 15 minutes